Cape Fear Pain Management Rehabilitation Consultation in Fayetteville NC
Are you suffering from acute pain, chronic pain, or a traumatic injury? We are here to help you start living life again. Contact our team of healthcare professionals at Cape Fear Physical Medicine & Rehab or visit us online to book an appointment. We are conveniently located at 1540 Purdue Dr, Ste. 200 Fayetteville, NC 28303.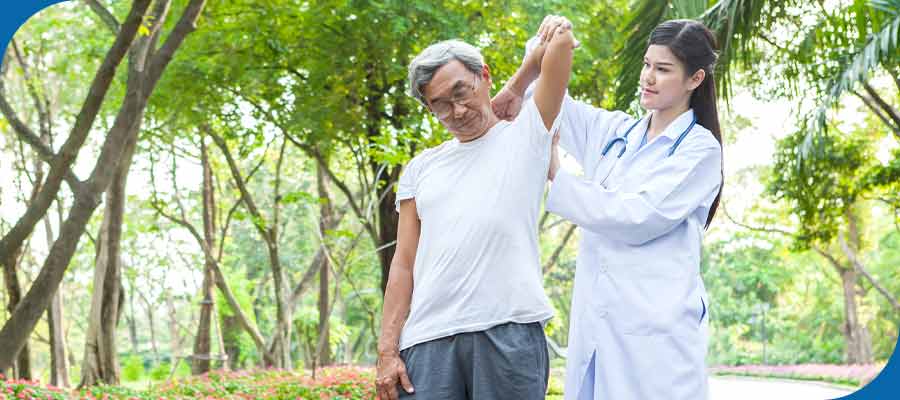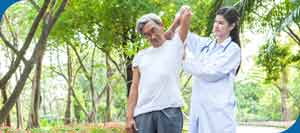 Table of Contents:
What is pain management rehabilitation?
What are common causes of pain?
Who needs rehabilitation?
How is a pain management specialist different than my doctor?
What is pain management rehabilitation?


Pain management rehabilitation is a form of treatment for someone who may suffer from chronic pain or acute pain after a traumatic injury where the person suffers from great amounts of pain. This treatment focuses on the mental, emotional, physical, and functional aspects that pain can disrupt in a person's daily activities of living. This rehabilitation treatment can be used on pediatric and adult patients. The term rehabilitation means restoring someone to healthy or normal life, and since pain is known to cause disruptions to a person's normal daily living, this medical approach allows a person to learn how to live with their pain and cope with it, which can include a variety of different therapeutic interventions or medical treatments.
 
Pain management rehabilitation can be offered in many different ways, such as pain medications, physical therapy, psychological therapy, acupuncture, mindfulness, or community support groups for individuals who currently live with chronic pain conditions such as Rheumatoid Arthritis, Cancer, IBS, CRPS, and many more. Pain management rehabilitation is the next step once you have been diagnosed with a pain disorder, or if you are someone who suffers from a reoccurring pain problem.
What are common causes of pain?


Pain is something that differs from person to person. A person who may have a 10/10 pain scale may only be a 1/10 for another person. Another factor that relates to pain is the diagnosis. Some chronic pain conditions are more painful than others, as the different body systems can be affected differently. Pain can be something small like a toothache to something severe like a bone fracture. The most common causes of pain are caused by toothaches, headaches, a sore throat, a stomachache or stomach cramps, muscle cramps or strains, a cut, burn, bruise, dislocations, or bone fractures.
Who needs rehabilitation?


The most common groups of individuals who require pain management rehabilitation are those who suffer from chronic pain. Chronic pain is a condition where an individual has long-standing pain that continues beyond the normal recovery period, or that occurs with a chronic health condition. Individuals who suffer from chronic pain are likely to suffer from mental health disparities, insomnia, and isolation. Having pain management rehabilitation can be extremely beneficial in preventing any other disparities to a person or can be a form of ongoing treatment that helps a person through their journey of living with chronic pain.
 
Other individuals who may suffer from acute pain could also benefit from visiting a pain management rehabilitation center, as it sets a person up for success throughout the period of time they are expected to be suffering from pain. Along with chronic and acute pain, other types of pain that people suffer from who may benefit from pain management rehabilitation is an individual who may have neuropathic pain, nociceptive pain, radicular pain, and more. If you are someone who suffers from any kind of pain, seeking out a pain management rehabilitation program may be something that helps you recover faster, and prevent your pain from becoming worse.
How is a pain management specialist different than my doctor?


A pain management specialist is a doctor that specifically deals with any kind of pain problem. They evaluate your pain and treat a wide variety of pain problems. They can perform pain assessments on individuals who have a headache, or an individual who may suffer from chronic pain. They also have the ability to diagnose a pain disorder that a person may have. A medical doctor is a qualified practitioner of medicine. Doctors have the ability to specialize in many different areas of the medical field, like cardiology, emergency medicine, neurology, or infectious disease. Doctors have the role of diagnosing different medical conditions that a person may have, and prescribing treatments for certain diagnoses. Doctors often use referrals to different specialists to offer a better course of care to their patients. The way a doctor differs from a pain management specialist solely comes down to the type of care that they give. A doctor may diagnose a patient with a pain condition, whereas a pain management specialist could diagnose a patient with a pain condition and offer them on-the-spot treatments and not have to go through a third-party referral. Doctors spend 4 years in an undergraduate program, medical school for another four years, and then another three to seven years as a resident.
 
A pain management specialist obtains a bachelor's degree in a pre-med program or science, which is then followed by receiving a doctorate in medicine. After receiving a doctorate, they choose a specialty in pain management to study, such as anesthesiology, physiatry, or neurology. Once their schooling is completed, they then have to pass a certification exam to become a certified pain management specialist. If you are experiencing any kind of pain, Cape Fear Physical Medicine and Rehab is a clinic with a team of leading healthcare professionals and technology and we are here to get you back to living your life again. We serve patients from Fayetteville, Fort Bragg, Hope Mills, Wade, Stedman, Lumberton, Lillington, Raeford, and Vander NC.