EMG Testing Specialist in Fayetteville, NC
EMG testing is a diagnostic procedure to assess the health of muscles and the nerve cells that control them. Visit Cape Fear Physical Medicine and Rehab to learn more. Contact us today for more information or visit us online to book an appointment. We are conveniently located at 1540 Purdue Dr, Ste. 200 Fayetteville, NC 28303.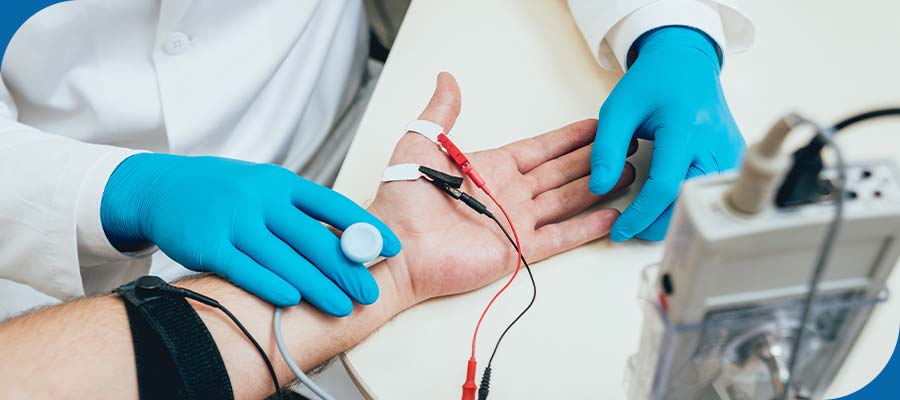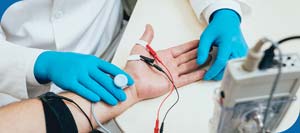 Table of Contents:
What is EMG Testing?
What is an EMG test used to diagnose?
How long does an EMG test take?
What happens during EMG Testing?
Here at Cape Fear Physical Medicine & Rehab, our specialists provide numerous treatments for chronic pain conditions. We offer a wide range of high quality services including radiofrequency ablation, epidural steroid injections, genicular nerve blocks, prosthetic evaluation, and much more. Our clinic believes in not only treating the painful symptoms associated with your condition but also the underlying causes. Through effective assessment, diagnosis, and treatment, your quality of life can significantly improve. One advanced testing tool to look for neuromuscular abnormalities is called electromyography. For further information about EMG testing and what our clinic in Fayetteville, NC, can do for you, please continue reading down below!
What is EMG Testing?


Electromyography, otherwise known as EMG, is a special test that can help determine whether or not you have neuromuscular abnormalities. During an EMG test, your pain management specialist will insert small electrodes through your skin into the muscle. These electrodes can measure the electrical activity in your muscle which is shown on a monitor called an oscilloscope. Your physician will measure your muscle response during rest and contraction in order to get a full picture of your muscle activity. The action potential created by nerve stimulation can provide your physician with the information needed to diagnose diseases in the muscles.
What is an EMG test used to diagnose?


The primary goal of an EMG test is to assess the health of your muscles and their motor neurons. It may be done if you experience symptoms such as muscle weakness, fatigue, cramping, numbness, and/or tingling. This advanced diagnostic tool can diagnose the following conditions:
 
• Muscle disorders such as peripheral neuropathy, polymyositis, and muscular dystrophy
• Herniated disks
• Nerve and muscle connection disorders such as myasthenia gravis
• Motor neuron disorders in the brain and spinal cord such as amyotrophic lateral sclerosis, spinal muscular atrophy, progressive bulbar palsy, or post-polio syndrome
How long does an EMG test take?


An EMG test can take anywhere from half an hour to an hour and a half to complete. After your EMG, you should be able to go back to your normal everyday routine with no problems. Your physician may provide alternative aftercare instructions depending on your unique situation.
What happens during EMG Testing?


First, you'll be asked to remove your jewelry and glasses and put on a gown. Next, you will be asked to lie down or sit depending on the muscle being tested. A pain management specialist or neurologist will insert a small needle into the muscle. Another small needle will be placed under your arm or leg. Your physician may place up to five needles for the EMG test. The test should not cause any pain or discomfort so make sure to let your specialist know how you feel. Pain will interfere and give your physician an inaccurate reading. During the test, you'll perform small to large muscle contractions which will be displayed on the oscilloscope and onto an audio amplifier. You won't receive the results of the EMG until a neurologist and your primary doctor has interpreted the results. They will explain their findings and provide you with any recommendations during a follow up appointment.
 
If you have any additional questions about EMG testing specialists in Fayetteville, NC, please contact Cape Fear Physical Medicine & Rehab. We would love to provide you with any answers that will make you feel fully prepared for your visit. Managing chronic pain can feel like an overwhelming task, but that's why Cape Fear Physical Medicine & Rehab is here for you. Our medical staff has advanced training in all areas of chronic pain management and will ensure you receive the highest standard of care. Give Cape Fear Physical Medicine & Rehab a call or request an appointment online to learn more about our EMG testing services in Fayetteville, NC. We serve patients from Fayetteville, Fort Bragg, Hope Mills, Wade, Stedman, Lumberton, Lillington, Raeford, and Vander NC.